new Delhi. Union Consumer Affairs, Food and Public Distribution Minister Ram Vilas Paswan on Saturday released the much-awaited investigation report of samples of drinking water taken from 20 states across the country, including Delhi. Ram Vilas said that it was not only in Delhi but the entire country was surveyed. Convened and surveyed a meeting with the Bureau of Indian Standards (BSI).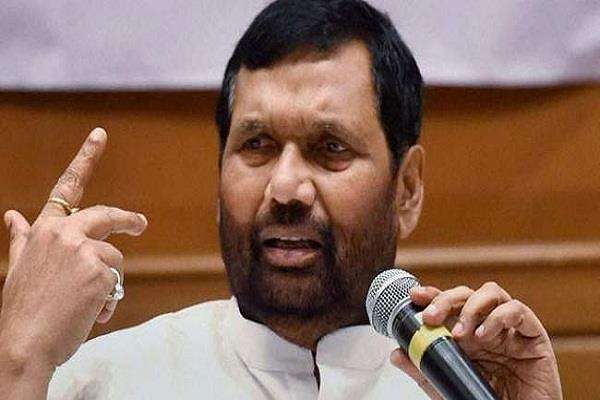 It is worth noting that after the BSI's initial samples of drinking water failed in the BSI's preliminary investigation in Delhi last month, Paswan said that by 2024, Prime Minister Narendra Modi aimed to tap every house in the country and provide clean and pure water. is. He said, "Due to this, the purity of drinking water is being investigated in the cities covered under the scheme of 100 smart cities, including the capital of all the states of the country."
Initially, water samples from 11 places were found to fail on 12, 13 and 14 standards out of 42 standards when samples of water taken from 11 places in Delhi were tested in the BSI lab. At that time, the Union Minister said that the final investigation report of these samples of water will come within a month. Paswan said that the biggest problem is two: drinking water and pollution. Our aim is to blame any government and not to do politics. As long as we have a ministry, people should have a system of drinking clean water. Whatever state government wants help from us, it can take from us.
He said that drinking water will be examined in three phases. In the first phase, the water of all the capitals will be examined. In the second phase, the smart city water will be tested. In the third phase, drinking water will be examined in all districts. He said that PM Modi had said that we will provide clean water to every house by 2024. Our government is working in this direction. The Union Minister said that it has come out in the quality report that the water in Delhi is bad. We are not blaming any government but the Delhi government should understand that we are not doing politics on this issue, rather our aim is to provide clean water to the people.
Which city is best for drinking water below is being given sequentially.